My first connection with Northern Spain was caving in the Matienzo region of Cantabria which is the next province to Asturias back in the late 70's/early 80's. History of caving and photos can be found
HERE
. Barbara first come to Oviedo in 2005 on a training/exchange programme. She become good friends with Carmen who was born and bred in Oviedo and works here as a teacher.
We spent Christmas 06 based in Carmen's flat in Oviedo and explored the local mountains in the Disco. We are back here now (Easter 09) renewing friendships and again exploring the local region. Oviedo can be easily reached by catching the Portsmouth Bilbao or Santander overnight ferry then it is about a 2 hour drive down the A8. Unlike other regions of Spain it is not overrun by ex pat Brits.
First a photo report from 06
Small fresh veg market stall
Cross hanging from Roman bridge
Topside of Roman Bridge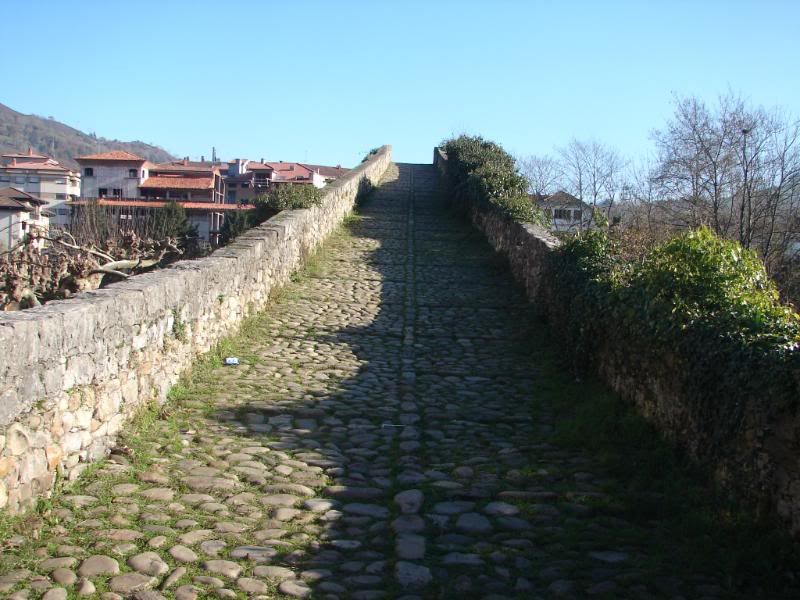 Setting for the main Christmas Eve meal.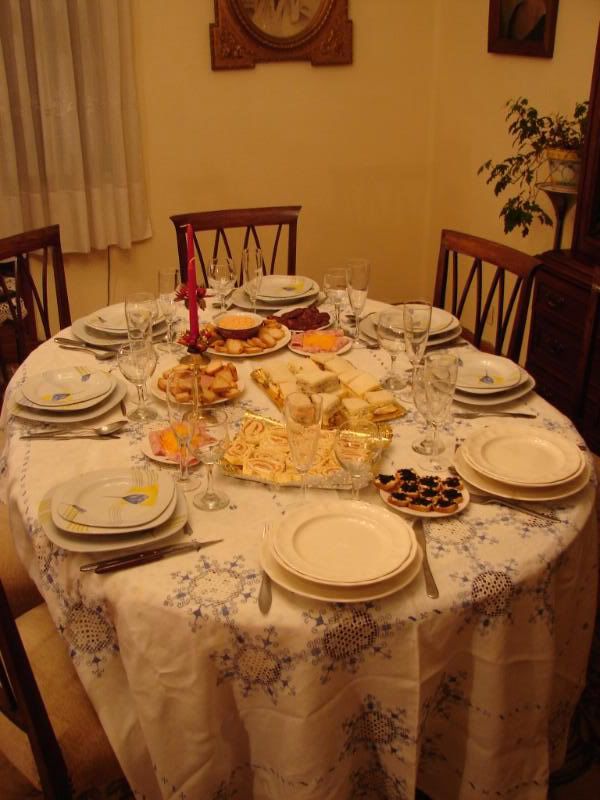 Can not beat home cooking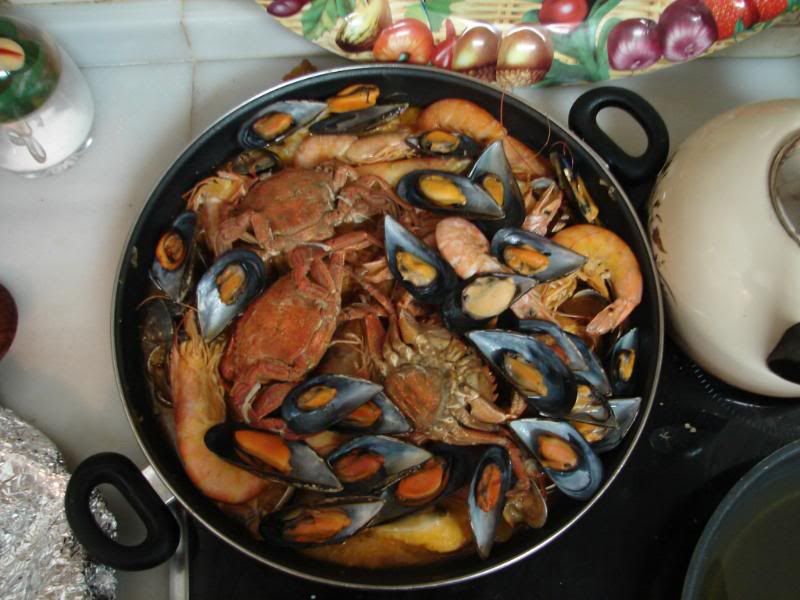 Spanish Christmas lights are far superior to standard UK lights
Driving up to mountains come across this shed on a car lot
Pack horse bridge and mill
Disco emerging from a tunnel through mountain spurs
Following our tracks back down the mountainside
Local traditional food store called a horreo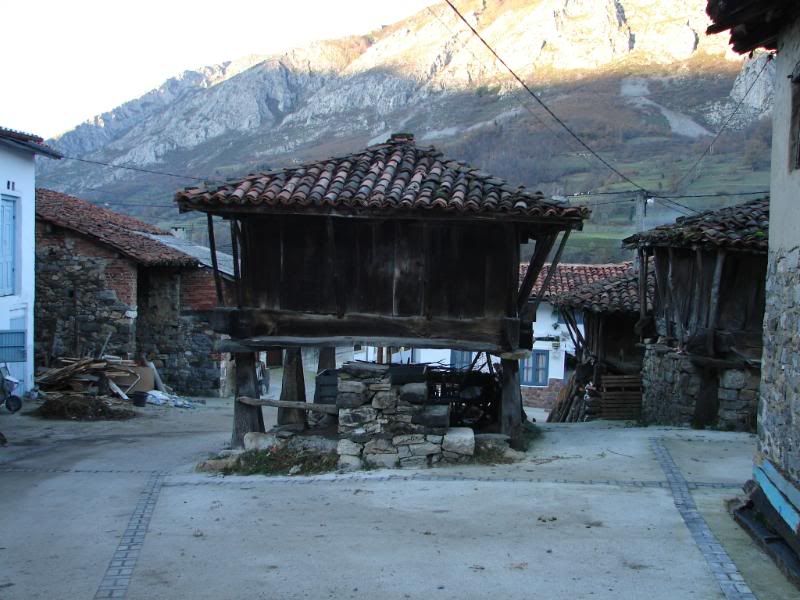 We met up with some Spanish LR enthusiasts from Madrid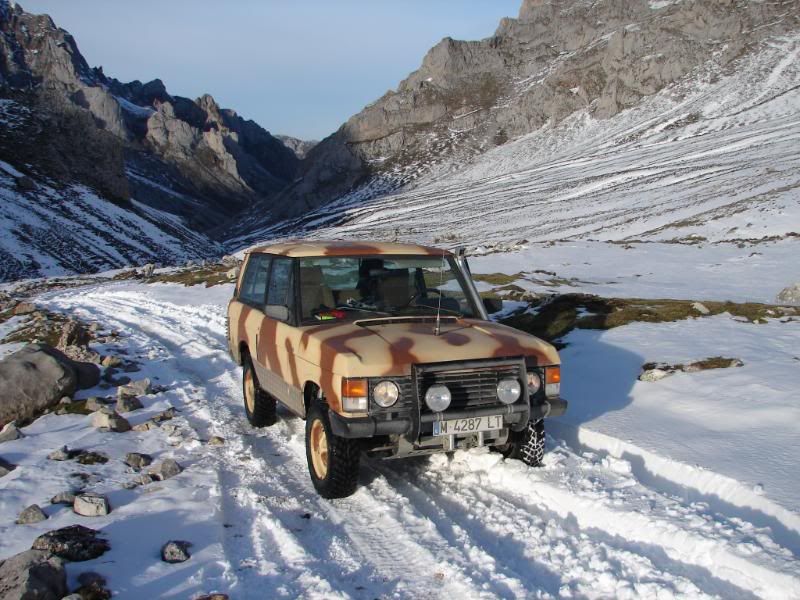 A framed view from below local church
Best source of advice is local. Notice traditional Asturias clogs
Local birdlife
Yep it was cold
Local honey source
It always tends to be special driving down from the mountains as the sun sets
Hope you enjoyed these photos. Will put some up from the current Land Rover holiday soon
Regards
Brendan
---
This years trip to Asturias we went via the new Brittany Ferries link from Portsmouth to Santander. Being my usual well organised self on the day of departure I needed to check on delivery of a load of timber for a chippy then a quick dash into Bradford to pick up paperwork for European recovery. Hopefully we won't need it. Back to load up the D2 then it was a 5 hour run down to Portsmouth for the 5pm ferry. Luckily this year it was a stress free run down with no hold ups.
The Brittany ferry is a modern ferry, was fast and also half empty. Effects of the economic climate??
After landing we had booked a small hotel in Ardisana in the Sierra de la Cubeta. 44 euros for B & B. Evening meal was wild boar and chips at 10 euros each. This part of Spain is a carnivores heaven, lots of well cooked meat at reasonable prices. I did not manage to eat all the wild boar as there was so much.
Following day it was minor roads through Cubeta with views like this
and
Diesel is cheaper then petrol out here and is about 80p/litre at motorway services. That is 80p/litre at the current exchange rate of 1.1euro to the £.
More photos to follow.
Regards
Brendan
---
After meeting up with Carmen and being taken around for a traditional Asturian lunch at her Mum's. A meat paella washed down with local wine and beer. Local well cooked food is great.
Following day saw a quck trip out west to Cudillero. The new harbour there has a lot of small local fishing boats in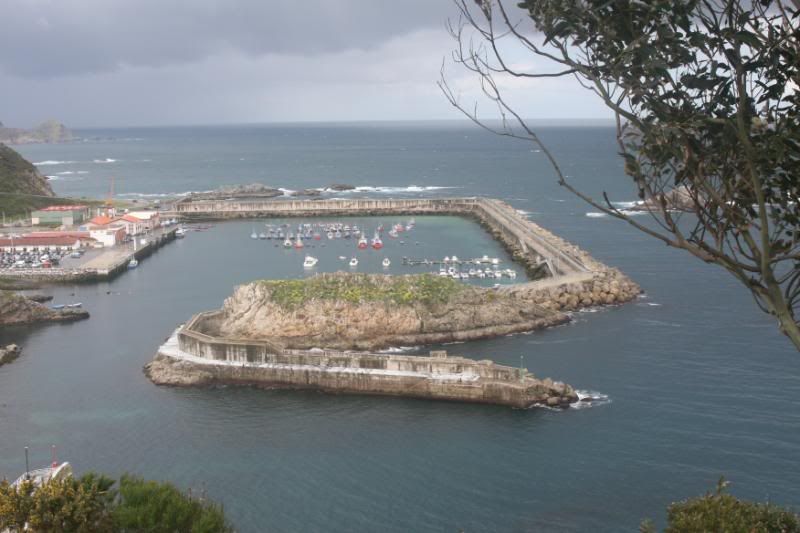 The old harbour seems unused these days which is a pity
The Spanish have a liking for chocolate which may well go back to their colonial days in S America. Their Easter 'eggs' are much more entertaining then the standard UK egg
Regards
Brendan
---
After Cudillero it was back eastwards to Aviles to watch the Good Friday parades. Some 9 churches/neighbourhoods parade pagents from the Easter story.
One of the parades on way to the central church through the main square
Detail of the town hall clock. Aviles is built on a ria or Spanish fiord
Guard at the local church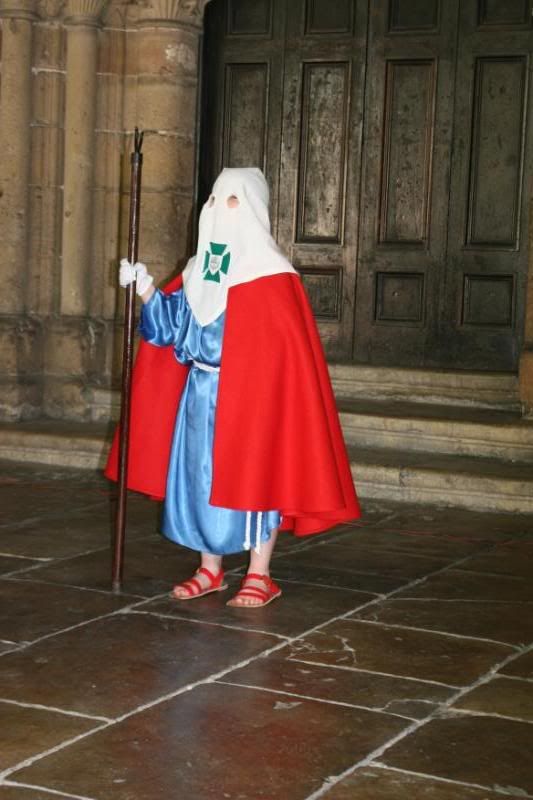 All ages took part, although this one needed a little encouragement at times to go in the right direction
Must admit this lot made me think of a coven of executioners
Am not sure what the Swedish connection here is about
These guys danced around the route carrying the equivalent of 35 kg each whilst barefooted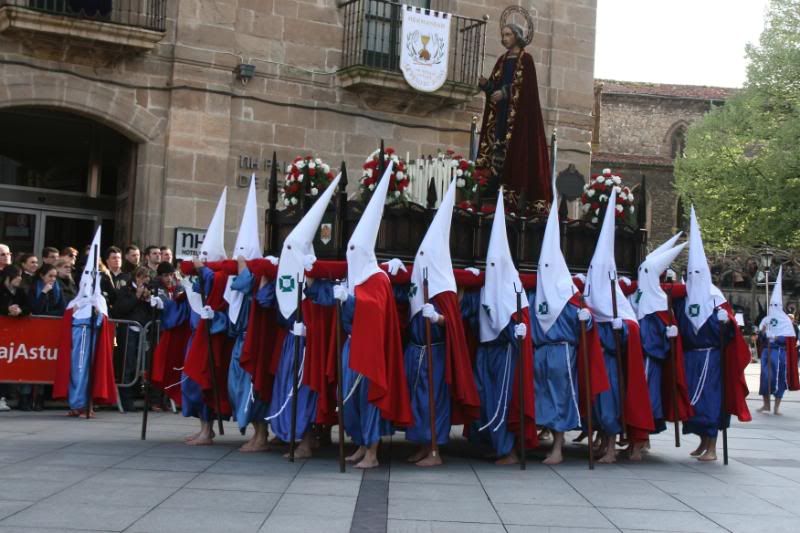 Superman coven having difficulties controlling their capes ??
Detail of the workmanship on the capes
Thirsty work! Bet he enjoyed a vino or cervaza afterwards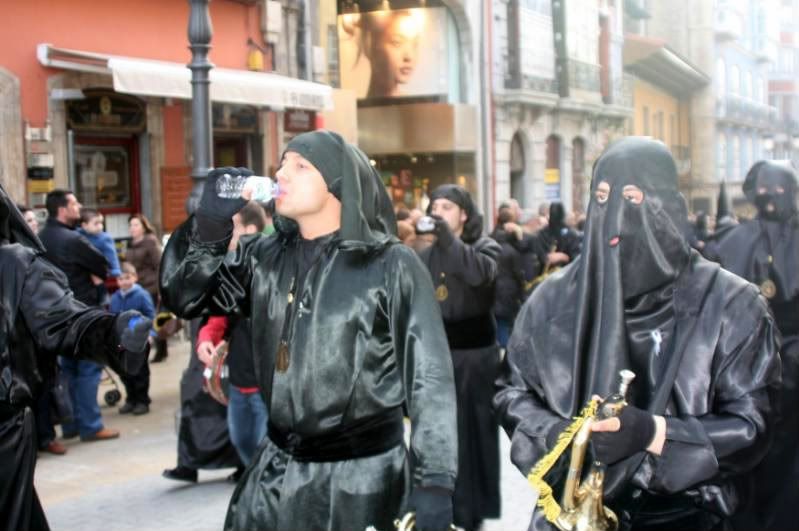 Will put up some photos of D2 etc later
Regards
Brendan
---
Currently sat in Carmen's flat in Oviedo whilst Barbara is spending a day in at Carmen's school studying the differences between a Spanish primary school and an inner city Yorkshire school. So have spent a happy hour or two struggling with photobucket.
Anyway a few more photos for you all.
One of the things I enjoyed about the Good Friday parades was the 'inclusiveness' of it all with the very young, the elderly and the mobility impaired all taking part. At the end of the parade was a line up of representatives off the nine different churches/neigbourhoods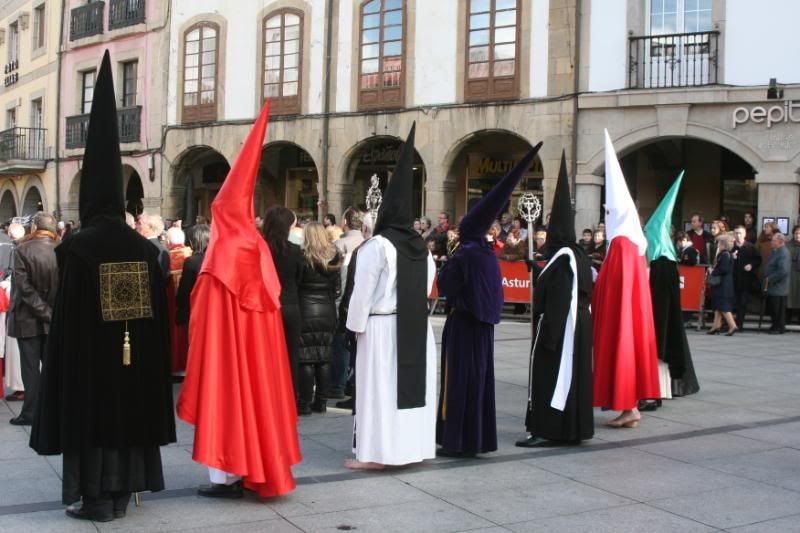 Saturday was spent exploring Oviedo which is a city about 15 miles from the sea and about the same distance from the Sierras.
Oviedo cathedral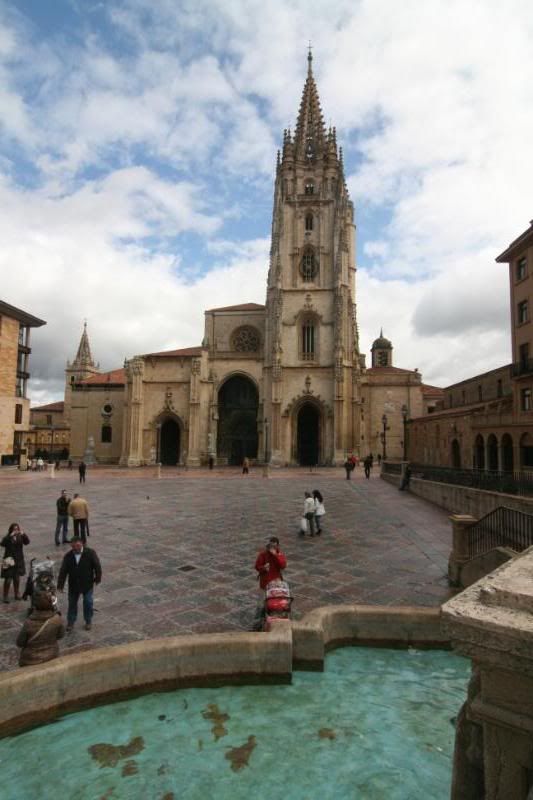 and Town Hall
There are lots of interesting old buildings, churches and palaces in Oviedo including this fine church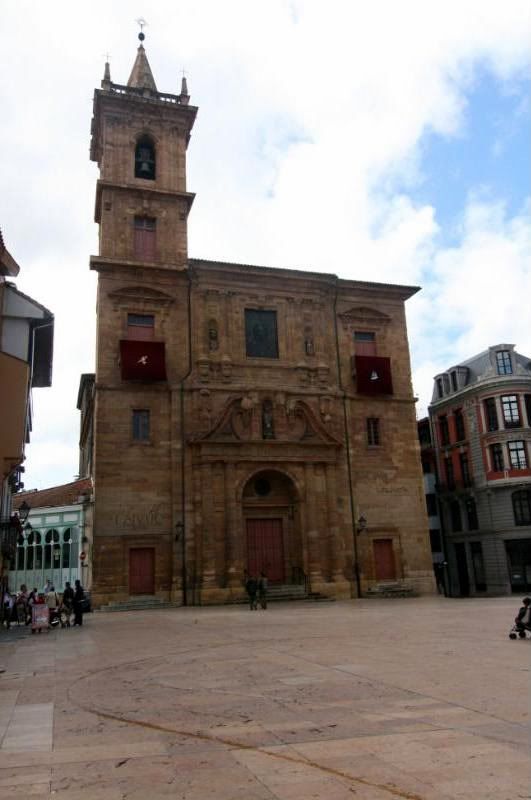 An interesting bit of 'official' old graffitti on it says @No ball games allowed'
There are a lot of interesting modern sculptures in Oviedo, some represent 'modern' art some its historic past.
Can imagine a comment like 'Does my bum look big in this?'
Fishmonger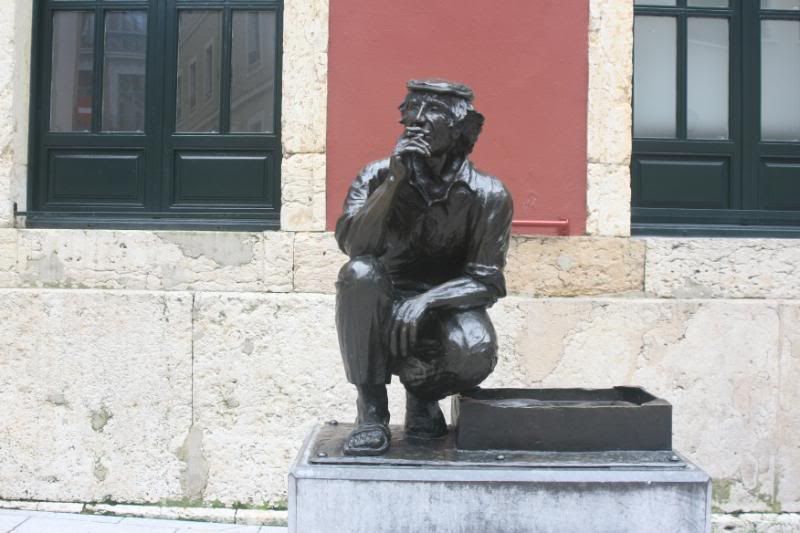 Passing travller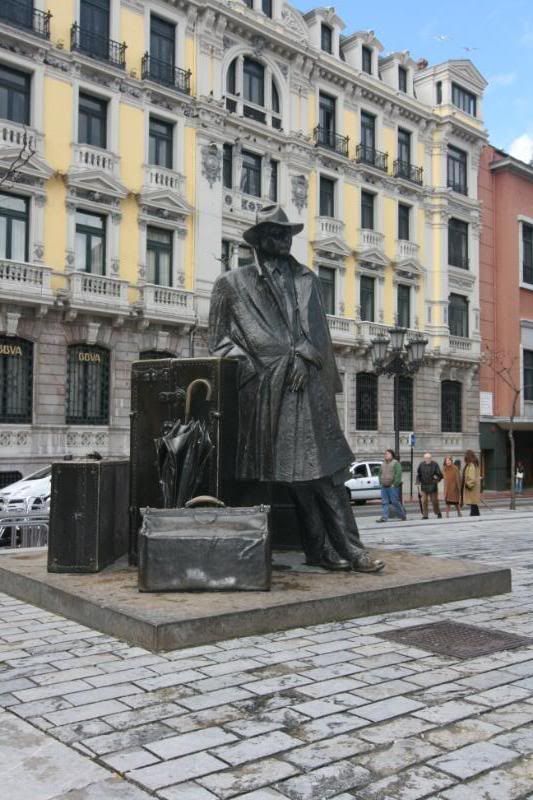 Gossoping housewives outside palace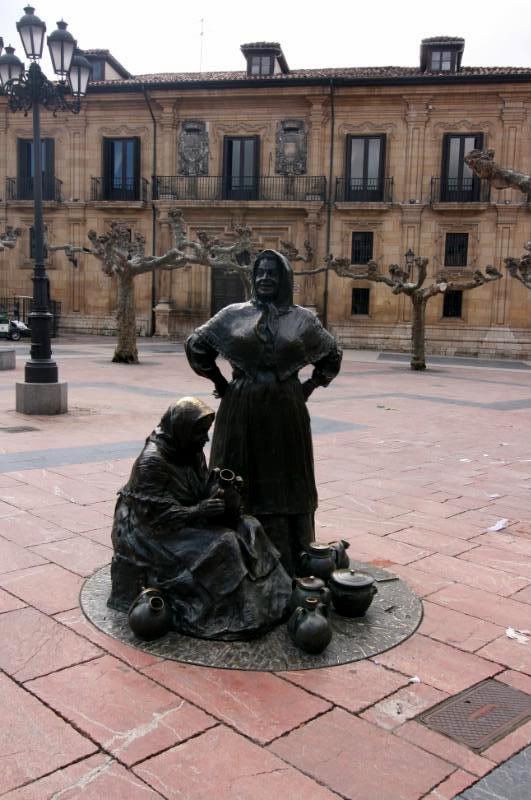 The local dust cart is a bit more 'stylish' then those in Leeds
Lunchtime come across this strolling band. If you heard traditional Galencian or Asturian music it would not be out of place in a country Irish or Scottish pub
More photos to follow
Regards
Brendan
---
Easter time is a great time in this part of the world for parades etc. However we were here in the Disco and the pull of the mountains and countryside was strong.
So we had some trips up into the local Sierras. Unfortunately the weather has not been brillant whilst we have been here and we did get some breaks in the clouds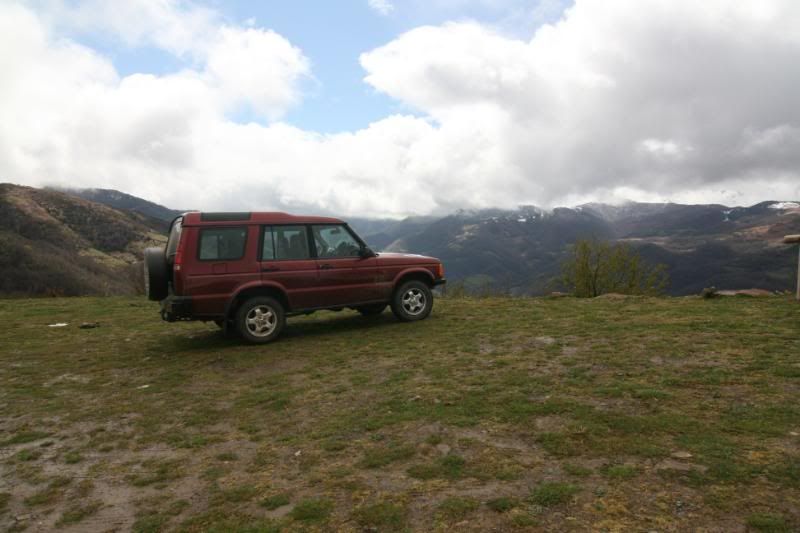 Travelling as a solo vehicle we always try to get local info and at times we have to be prepared to turn around.
Was convinced with a bit of work with the shovel we could have passed this drift.. However a fallen tree a 100 metres further along would have made 'skirting' around it interesting!
Checking the maps and realising we were still 200 metres below the high point, discretion was decided on and we cautionously backed off and turned around. On the way down, chatted to a farmer in a 110 taking hay up to feed his stock. He confirmed that the track was still impassable and that the alternative route was still open. Off we went on the alternative route and found the other end of the track
Think we made the right decision as this was the other end of the track 200 metres higher
Many of the minor roads hug the mountains probably for a firmer base and leaving the valley bottoms for grazing.
Back onto the tracks and a photo for the horse lovers
Some interesting folding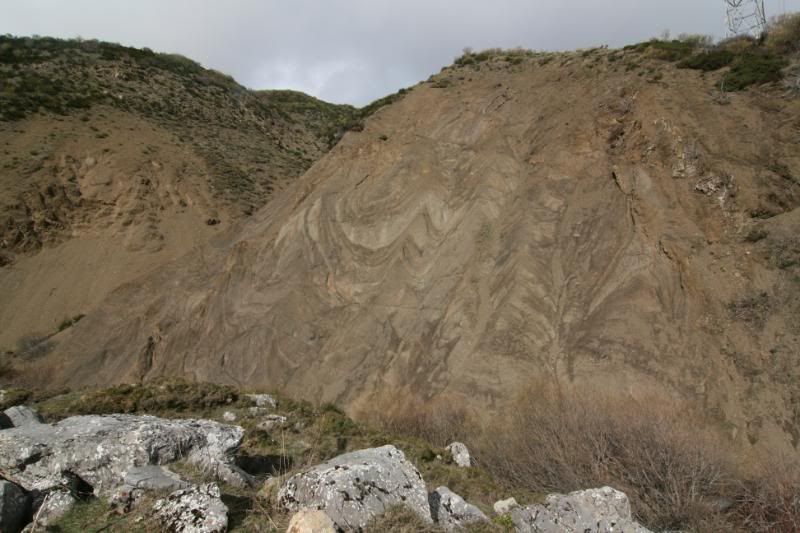 A few miles further along this
So we turned round and gave some assistance to Spanish walkers and ferried them across a high ford.
Some of the roads have big retaining walls.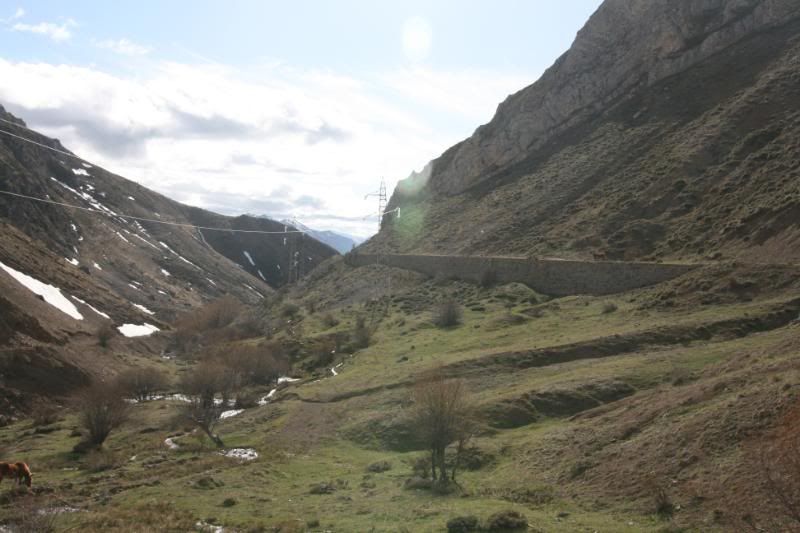 The terrain here means that there are lots of modern viaducts and bridges
We were back in Aviles for the evening parade with the different villages in their traditional outfits all with their floats. Kids ride the floats whilst distributing sweets which both kids and adults collect. The collecting kids come well prepared with baskets to collect their 'goodies' Unfortunately the weather was slightly inclement!
Last minute adjustment of dress
I agree dear this weather is awlful
Am I pleased to get those shoes off. They were killing my feet!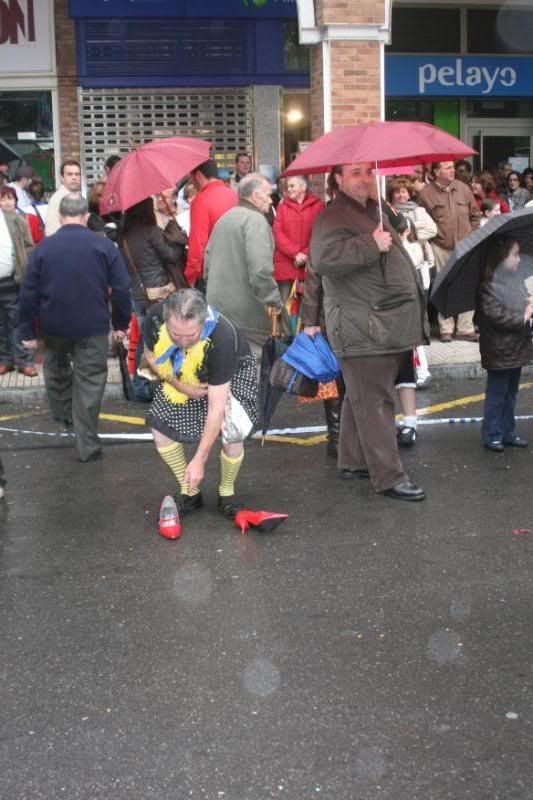 Bagpipes warming up in the dry
Even the Green Oval was on duty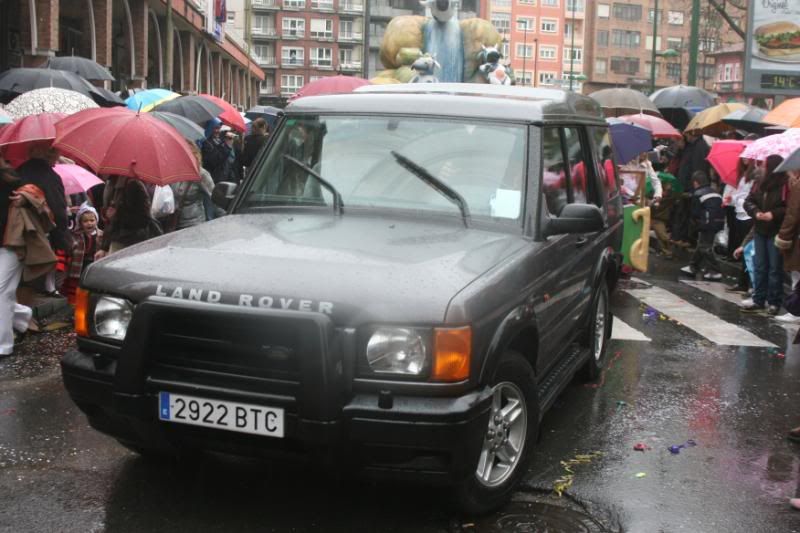 Village representatives
One of the floats
Even the local animals took part in the parade!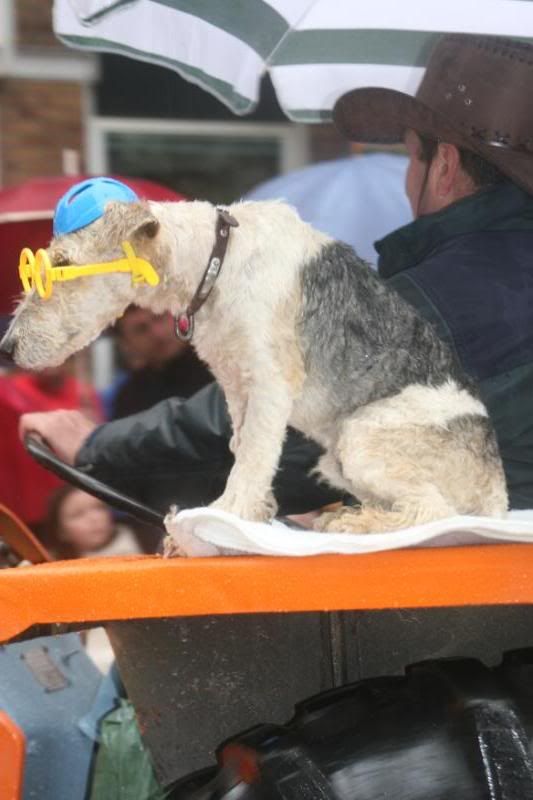 Regards
Brendan
Last edited by
leeds
on Wed Apr 15, 2009 9:28 pm, edited 1 time in total.
---
Looking longingly at the mountains wishing the weather would improve
When go exploring in the mountains you come across small bars where 3 coffees, a glass of wine, nibbles and a delicious plate of four local cheeses and bread can be had for less then 10 euros. There again we dont win them all! Yesterday late lunch which was large entrecote steak and chips with beer, wine and coffee cost 47 euros. It is much better finding a place with the menu of the day which is local rates.
Anyway running the Xplore tough book and a sat nav we managed to find some interesting villages. Must get around to putting permanent power in Disco for the tough book. On the to do list as we just nicked it out of the 110. Found little Arbonas, delightful village which unfortunately the young ones are leaving. The main and only road into the village.
Typical horreo in village with the bees being active. A wind farm is on the opposite ridge
The wind farms tend to be built along ridges and have good tracks running along them. Went exploring one track and found this! I bet there was an 'interesting' conversation back at the office!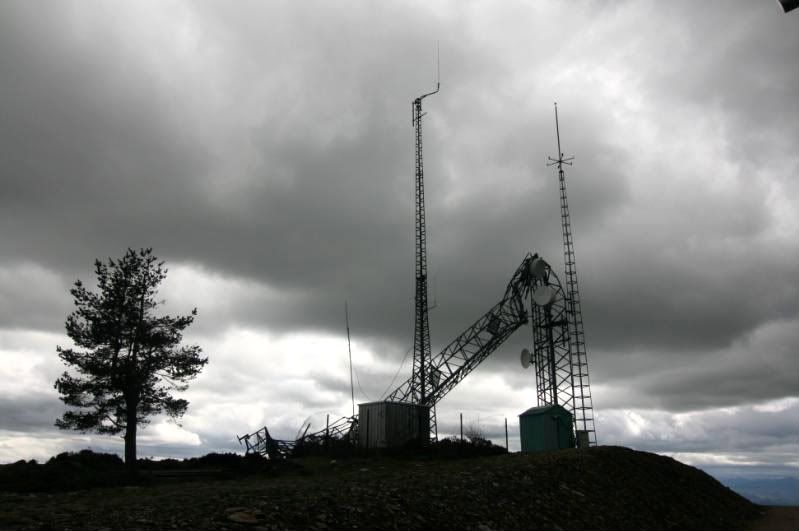 As far as I could tell it was a control mast for the wind farm
Regards
Brendan
---
Whilst Barbara spent a day in the local school I was busy with photos. Unlike UK schools the kids have to provide their own books, paper, pencils etc. The young ones have to wear 'protective clothing' and assist with the teaching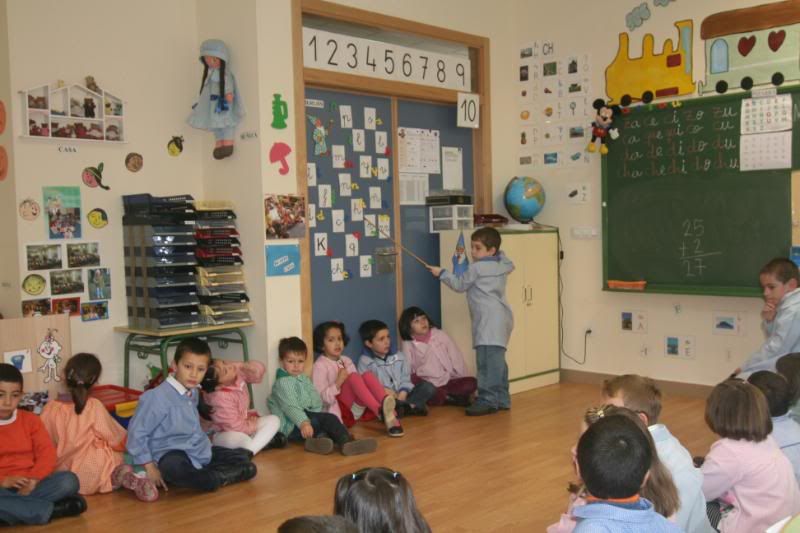 After a late lunch, 3 courses, bread, wine and coffee for 8 euros we went off bear hunting but without sucess
The local townhalls also use Green Oval vehicles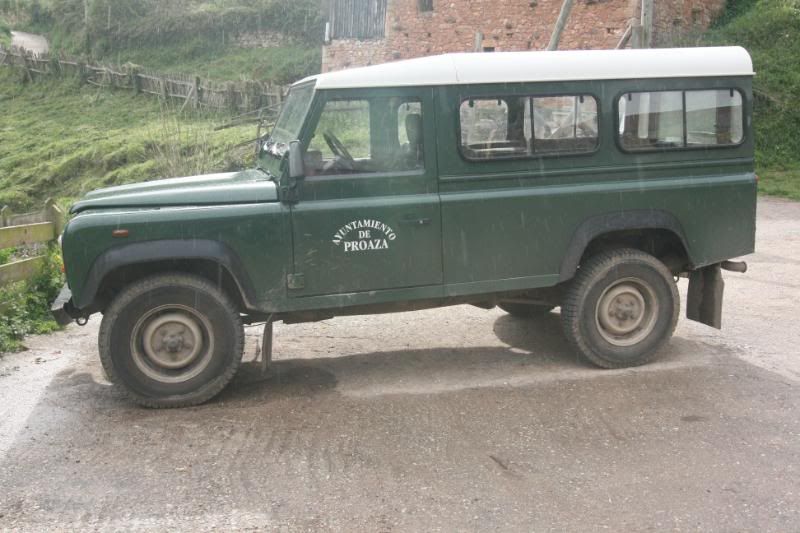 The local launderette
We found a newly constructed road up to the high pastures
Have been stopped on tracks due to landslides, snow, fallen trees etc. This time road just stopped at a gate and upland pasture
This old paved pack horse trail led off the new road
Evening, clouds can make for some interesting lights effects.
Tomorrow start heading back. Will not be going the direct way to Bilbao but will see what the Brendan route finds
Regards
Brendan
---
---
Who is online
Users browsing this forum: No registered users and 6 guests